An earthquake measuring 7.1 on the Richter scale has struck Yushu County, Yushu Tibetan Autonomous Prefecture, Qinghai Province on 14 April 2010. This powerful earthquake has led to death of at least 2,698 people, over 270 people missing, and 12,135 people injured. Power outage happened in the affected areas. Since houses in the areas were only built using only wood and mud, almost all houses were demolished, and the victims lost their home as well as their loved ones. As the earthquake happened during school time, many schools were torn down and students were buried.
We felt deeply moved by the disaster. We donated HK$200,000 to the Liaison Office of the Central People's Government in the HKSAR – Special A/C for Disaster Relief in support of the victims in Qinghai. Disaster relief such as medical assistance, food, water, clothes, sleeping bags etc were provided to the victims. The donation was also used in the disaster recovery in the region.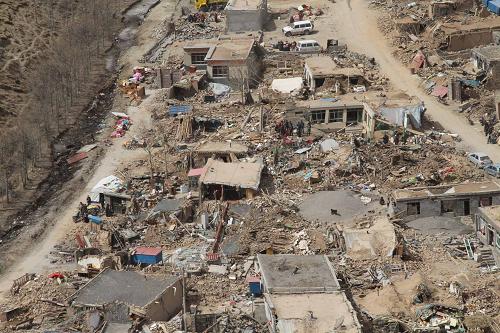 Houses were torn down by the earthquake, leaving the victims homeless after the disaster.